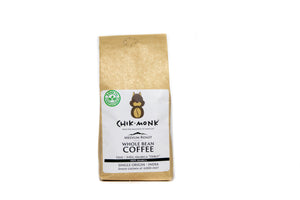 Arabica grade A coffee sourced directly from our family estate in Chikmagalur. We manage the growing, picking and transport of specialty green coffee from India to the United States. Batch roasted weekly in Florida. 
Description: This coffee is a Medium Roast. It is well balanced and low in acidity due to its growing methods. Our roasting brings out tasting notes of caramel, citrus and hints of spices.
Making At Home:  Hot Coffee: (1) Grind coarse for a French Press, (2) Grind medium coarse for Pour Over and Chemex, (3) Medium to more fine for drip coffee machines, (4) Fine grind for an espresso or Turkish style coffee.
Our ground coffee is ideal for drip or reusable K-cups.
Cold Brew: (1) Extra coarse grind - Medium roast is our go to when we keg it and serve it in South Florida. Let the Coarse Grinds soak in cold water for 14-16 hours.
** Our coffee is freshly roasted per your order so please allow 5-7 days for delivery. We suggest placing your next order before finishing that last cup so you never have to wait.